The eaves above our garage were my home and inspiration – for it was there in our remote English countryside abode, where as a young child, I first began my creative practice – sewing, making bags, embroidering clothes and exploring materials that are now almost extensions of my being.
In 2015, I started Harriet Frances. My current creations encapsulate my desire to use traditional needlework to inspire contemporary jewellery and accessory design.
Using the traditional techniques learnt during my studies with skills developed whilst working with a variety of jewellery and fashion designers, has led me to my latest work. My collections showcase my love for colour, texture and embellishment and work handcrafted with consideration, combines embroidery with an array of mixed media materials, including 18 carat gold and precious stones.
A desire to deepen my knowledge of craft led me to the three-year degree programme at the Royal School of Needlework, the International Centre of Excellence for the Art of Hand Embroidery. Goldwork, Silk Shading and Raisedwork were among techniques mastered during my studies. I learnt not only the traditional methods, but also the modernisation of these skills through the development of contemporary design and after interning for an accessories brand and trading skills with a fine jeweller, I began exploring three-dimensional possibilities of embroidery.
In 2016, I received the Creative Careers Award from Cockpit Arts and The Prince's Trust and moved into a funded London studio. That combination of events sparked my current career. I started selling well, and gaining exposure—and demands for my work. Tate Britain commissioned a collection to complement their Pre-Raphaelite exhibition, and at the same time the Worshipful Company of Girdlers' placed a large order of Goldwork brooches, after awarding me their Golden Medallion for my contribution to embroidery.
Today I continue to show and sell my work, while enhancing my current collection. I have sent work to China and now Saudi Arabia, where a boutique in Jeddah is featuring my designs. Most recently, I received awards from the Worshipful Company of Needlemakers, Broderers and Haberdashers, in addition to the Embroiderers' Guild Scholarship. Earlier this year, I was invited to join the Worshipful Company of Gold and Silver Wyre Drawers as a Trade Freeman. All of this continues to inspire and influence my drive—and my work, which continues to evolve and grow. I also enjoy educating others in the field, so that they too can develop their own brands based on their desire and influences.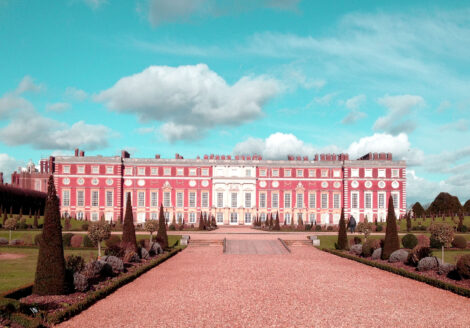 Royal School of Needlework, based within Hampton Court Palace, Surrey.
Nicole Kidman wearing the McQueen Silver Wave dress.
Freelance
I am proud to work with high-profile clients, frequently embroidering collections for Alexander McQueen, including The Silver Wave dress for Nicole Kidman, worn to the Golden Globes, alongside projects for Jasper Conran, Giles Deacon, Mary Katranzou and Nicholas Oakwell Couture – a stunning feather dress designed for the British government's GREAT Campaign, worn by Erin O'Connor and then Cheryl Cole to the X Factor final.
Collaborating with luxury retailer The New Craftsmen, I have designed for Burberry Makers House in 2016, run a monogram service in the Burberry Flagship Store over Christmas and more recently developed a range of bespoke hand embroidered linens for the Mayfair showroom, as part of their Moment for Tableware campaign.
Education
In the interest of sharing skills and knowledge, I pursued a City and Guilds teaching qualification and subsequently ran two weekly short courses in sewing and embroidery at Hereford College of Arts, whilst teaching classes at the Royal School of Needlework and West Dean College of Arts and Conservation. As a result, after developing my own series of creative classes I was travelling all over the UK, visiting places I had never been before, meeting such interesting people. I had the honour of speaking at the V&A museum on behalf of Cockpit Arts about my experience in the industry and to encourage young people to pursue a creative career. In 2017, I moved to the Middle East, where I have since continued to enjoy the opportunity of sharing my skills and expertise with the Saudi community.
Teaching chain stitch during an embroidery training course for Turquoise Mountain in Yanbu, Saudi Arabia.
The artisans went on to produce embroidery for the Radisson Blu Hotel in Riyadh's Diplomatic Quarter.
Consultancy
In January 2017, I began a short-term consultancy with Turquoise Mountain, to support the setup of the first female-only jewellery workshop in Saudi Arabia. A Prince of Wales's Charity, they work to protect cultural heritage, by training local artisans in heritage skills and in turn providing financial and economic security.
By the summer of that same year, I started my position as 2-D Production Manager and Artisan Trainer. Currently, I am their Design and Product Development Manager based in Riyadh, translating heritage into contemporary designs, suitable for the artisans to produce.
Embroidery training course, Qassim, Saudi Arabia.
If you would like to discuss any of the below, please contact info@harrietfrances.com.
Adaptation and development of
products to suit specific requirements.
Support for
projects and clients.
Collaborative
project ventures.
Craft skills training, design, artisan development
and project management with international organisations.
Creative training courses or
workshops in group classes or private tuition.